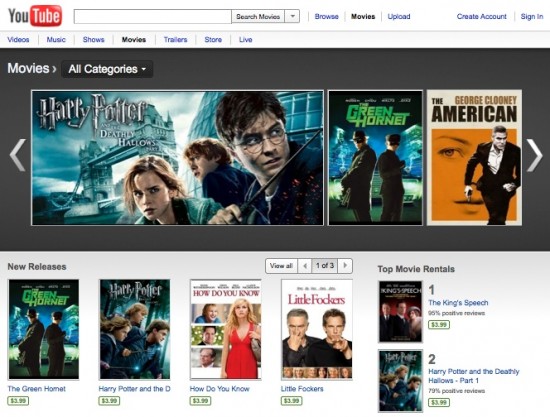 Video streaming giant Youtube has announced that over the coming weeks, it will be adding 3000 movies for rental including many Blockbuster hits such as Inception and The King's Speech.
Unfortunately for our UK and European readers, Youtube confirmed that at present the 3000 or so movies will only be available for rent to US customers initially. We thoroughly expect Youtube to branch out after the initial phase and offer movie streaming to the rest of the world, though.
It seems most movie rentals will cost $3.99, with older movies and indie flicks costing slightly less at around $2.99. Youtube promise not just a movie rental, but access to additional bonus content as well as detailed film reviews from Rotten Tomatoes.
Will Google's Youtube be able to take on the might of Apple's iTunes movie rentals, which have been established in the market for some time now? Would you prefer to rent through Youtube or Apple? Have your say by leaving a comment, or alternatively drop us a line on Twitter.
Via: Youtube Blog
Let us know your thoughts by adding a comment below or via our @Gadget_Helpline Twitter page or Facebook Page.
You can also stay up to date with our YouTube, Tumblr and Instagram pages.
---
Tags: 3000 movies, channel, download, Films, HD Video, lovefilm, movies, netflix, Rival, Streaming, YouTube