Who doesn't enjoy a warm blanket during the winter season? 'Sound Asleep' have gone a step further and added a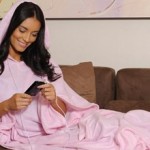 special touch for music lovers. The company's new offer is a blanket with Sound Asleep speaker embedded in it. So basically, you now have your soft 'snuggie'-like blanket which will treat you with fine audio reception.  It's made of fleece so is gentle and soft to touch, and comes complete with sleeves and a hood for giving you that extra comfort.  The speakers are actually sewn into the hood, but are also removable.
The speakers feature a 3.5 mm jack and therefore have almost universal support for mp3 players or hifi systems. The blanket seems like a good gift idea for this holiday season. If you have any relatives or friends who love their music, then this Sound Asleep blanket will be perfect for them. The blanket is available in various sizes including kids sizes, and comes in blue or pink. The product has already started shipping in the UK and you can get yours for £15.00.
Source: chipchick
Let us know your thoughts by adding a comment below or via our @Gadget_Helpline Twitter page or Facebook Page.
You can also stay up to date with our YouTube, Tumblr and Instagram pages.
---
Tags: blanket, Holiday Gift Ideas, in-built speakers