The GadgetHelpline's recent survey results on the difference in the technical support for Men and Women is now being featured on the BBC News Technology website.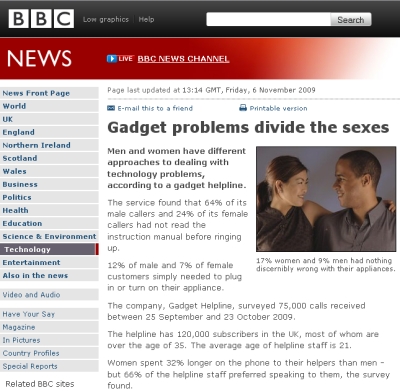 As the GadgetHelpline is gearing up for a busy Christmas, these interesting stats highlight the difference in support between the sexes  and means we can offer any support unbiased of gender.
Click the link below to vie the full BBC news article or to see the original GagdgetHelpline article click Here.
www.news.BBC.co.uk/1/hi/technology/8346810
Let us know your thoughts by adding a comment below or via our @Gadget_Helpline Twitter page or Facebook Page.
You can also stay up to date with our YouTube, Tumblr and Instagram pages.
---
Tags: bbc, blog, Gadget, Gadget News, Gadgethelpline, helpline, men, new, survey, Technology, vs, women