It's finally here. Sony revealed the PlayStation 4 tonight for the first time, and they didn't hold back with the details. The event went on for several hours and very late here in the UK, so if you sloped off to bed and missed some of it we wouldn't blame you.
There was plenty to take in at the event, ranging from the hardware in the console itself to new software, games and features. So, in case you missed anything from Sony's big event, here's everything you need to know about the PlayStation 4.
The Hardware
When speaking of the hardware that makes up the PS4, Sony likens it to a 'supercharged' gaming PC. It uses an x86 processor with 8 cores, an enhanced PC graphics processing unit with immensely powerful GDDR5 memory, a hard drive for local storage and 8GB of high speed unified memory.
Sony didn't touch on the disc drive and spent plenty of time waxing lyrical on cloud gaming and downloads, so we're hoping that there will be a disc drive.
UPDATE: It's since been revealed that the console has a 6x Blu-ray and 8x DVD drive, which is faster than that on the PS3.  There's also USB 3.0 and auxiliary ports, HDMI, analog AV-out, and optical S/PDIF audio output, Bluetooth 2.1, Wi-Fi 802.11 b/g/n and Gigabit Ethernet.
The Controller
Dubbed the DualShock 4, the controller for the PS4 follows the classic design established way back with the original PlayStation. It's got the dual analogue sticks, D-pad, the shoulder buttons and the triangle, circle, square and X buttons.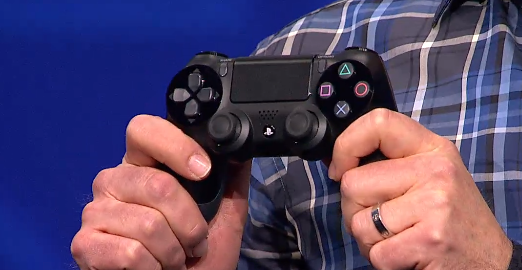 It's also got a touchpad where the Start and Select buttons used to be, a share button for sharing your video clips and gameplay with others, a headphone jack for headsets and an illuminating light bar to differentiate between multiple players on the same console. There's also a controller-sensing camera accessory that was briefly touched on.
Sony has improved the rumble functionality and reduced latency, making the DualShock 4 the most responsive controller for a PlayStation to date.
Share Button
That share button on the controller is a big thing. Press this and you'll be able to instantly start an upload of a short video clip you recorded while you were playing a game. It also allows you to broadcast your game, allowing other gamers to watch you play over the net.
Friends can use this feature to put comments and helpful tips onto your screen. Going one step further, friends can actually take control of your game – with your permission of course – and help you through a tough part.
Online Gaming
Sony's acquisition of streaming experts Gaikai brings about tonnes of new and exciting online features. With the share button you'll be able to broadcast your gaming to your buddies, who can make comments that'll appear on your screen as you play, and even take the controls and play parts of your game for you.
You'll be able to browse and download games from the PlayStation Store as you can on the PS3, but you'll also be able to jump in and try a game before buying it. When you do buy the game, you don't have to wait for it to download fully – you can start playing a short while into your download whilst a second chip in the console allows the rest of the download to be finished in the background.
The Second Chip
A secondary chip inside the console allows plenty to be done in the background whilst you carry on as normal. It'll allow you to record and upload short clips of your gameplay to the web in the background whilst you continue playing, for starters.
It also allows new games and updates to be updated quietly behind the scenes as you carry on about your business. It's kind of like the way you update apps on your smartphone.
The Games
We know how powerful the console is, but has anybody made something to take advantage of it? Of course they have. Four games were shown off at the event; Killzone: ShadowFall, Driveclub, infamous: SecondSon and The Witness.
The latest Killzone title showed off the graphics capabilities of the new console with plenty of shooting and explosions, and it looked incredible. Driveclub is an intriguing online-based racing game that interacts with your smartphone and tablet, whilst The Witness is a new island-based puzzler from the makers of Braid.
Capcom also demonstrated Deep Down, a work in progress that utilises its brand new 'Panta Rhei' graphics engine, and it looked amazing. Square Enix confirmed a Final Fantasy title will be coming, Ubisoft announced that the impressive Watch Dogs will hit the new console later in the year, and Bungie confirmed its new and ambitious title 'Destiny' will land on the console. Finally, Blizzard revealed that Diablo III would come to the PS4.
The Services
Sony briefly touched on the sort of services the PS4 will offer, with Netflix, Amazon Instant Video and their own Music and Video Unlimited services all noted. We're sure many apps and services will follow as the console nears its launch.
Interaction with the PS Vita
Sony's handheld console will play a big part in the launch of the PS4. You'll be able to stream games live from the PS4 to the screen of the Vita and continue playing where you left off.
This feature uses Gaikai's technology, effectively making the PS4 a server and the Vita a client, with a superfast connection between the two. Sony says its goal is to make every PS4 title compatible for streaming to the Vita with Remote Play.
When is it out and how much?
Sony put "coming Holiday 2013" on screen right at the end of the show, so it looks as though that rumoured November time frame is right on. As for how much the console will cost, we still don't know.
What does it look like?
Unfortunately one of the main things most people wanted to know, or see, didn't materialize. We're still none the wiser as to what the console looks like, but we're confident we'll find out at E3 in June.
Let us know your thoughts by adding a comment below or via our @Gadget_Helpline Twitter page or Facebook Page.
You can also stay up to date with our YouTube, Tumblr and Instagram pages.
---
Tags: console, DualShock 4, Games, next-gen, playstation 4, Playstation Network, ps4, psn, Sony