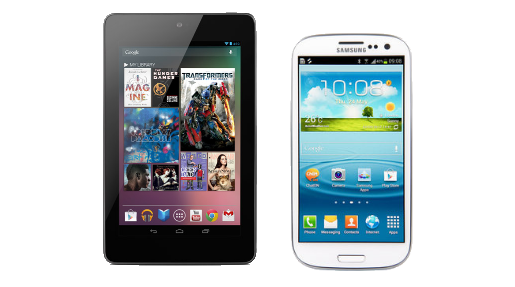 Samsung and Google scooped prestigious trophies at the annual GSMA awards, with the Galaxy SIII and the Nexus 7 both coming top of the class.
Google and Asus' incredibly popular Nexus 7 was voted best tablet device, which isn't all that surprising given how well the public have taken to the 7-inch Jelly Bean gadget. We're huge advocates of the Nexus 7 so we're pleased to see it doing well, especially against stiff competition from the likes of Asus' Infinity Pad and Apple's iPad 4.
In the mobile phone world the Samsung Galaxy SIII was voted best smartphone, topping the iPhone 5, HTC One X+ and Sony Xperia T, amongst many, many others that have been launched in the past 12 months. The feature-packed smartphone has received rave reviews and is well on its way to selling 50 million units.
The annual GSMA awards take place at the end of Mobile World Congress in Barcelona each year, honouring the successes of products launched the year before just as a new wave of products prepare to launch after being revealed at the show.
In other categories Nokia picked up best feature phone for the Asha 305, Facebook won Best Mobile App for Consumers, and Samsung took home Device Manufacturer of the Year along with Best Mobile Infrastructure.
Samsung's momentum looks set to carry into next month as the company prepares to unveil the Galaxy S IV in New York City on March 14th.
Let us know your thoughts by adding a comment below or via our @Gadget_Helpline Twitter page or Facebook Page.
You can also stay up to date with our YouTube, Tumblr and Instagram pages.
---
Tags: 2013, Awards, Best Phone, Galaxy S III, Galaxy S3, google, GSMA, Nexus 7, samsung