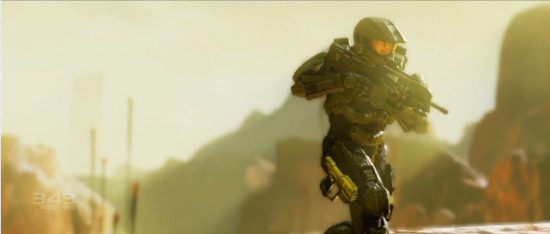 It's good news for keen Xbox 360 gamers, as Microsoft has officially confirmed that the highly anticipated Halo 4 title will be available to buy in time for Christmas this year.
We already knew that the latest addition to the massive Halo saga was in the works, and now Microsoft has let us know, albeit very vaguely, when we should be able to get our mitts on it. Rather than announcing the launch date to great fanfare, Microsoft seemed to let slip the expected launch time in a new press release which is primarily designed to let us know about the game's soundtrack.
The software giant recently posted out a press release to let us know that they've teamed up with Neil Davidge of Massive Attack to work on the game's soundtrack. We'll get on to the details on the soundtrack in just a bit, but first our eyes were drawn to a section right at the bottom:
"Launching worldwide exclusively on Xbox 360 this Christmas, "Halo 4" is the next blockbuster installment of the iconic franchise that has shaped entertainment history and defined a generation of gamers."
Microsoft seems to have just dropped this vital piece of information into the press release as though we already knew, but this is the first official word we've had on the game's release schedule. The title, which continues the saga with Master Chief, will focus on our hero as he takes on an ancient evil in a bid to save the universe.
Although the game is developed by 343 Industries, Microsoft is keen to wax lyrical on the game ahead of the launch, what with it being an Xbox 360 exclusive.
"Halo 4 takes the series in a bold new direction by delivering its most epic and explorative campaign yet, alongside an emotionally resonant story and a groundbreaking multiplayer offering unlike anything before it – setting the stage for an epic new sci-fi saga,"
Neil Davidge has taken the reins for the title's soundtrack, enlisting the help of an epic 50 piece orchestra, 10 female singers and a male tenor/bass choir of 16, along with many more artists and musicians to help along the way. The Massive Attack co-writer and producer fits the bill perfectly as he is already a huge fan of the Halo series, as he explained to Microsoft:
"As a passionate 'Halo' fan, I'm incredibly honored and thrilled to have the opportunity to compose the score for 'Halo 4," he says.  "Music has always been at the heart of what makes 'Halo' so captivating and iconic. With 'Halo 4,' we want to build upon the franchise's amazing legacy and create a score that captures the awe and wonder of the 'Halo' universe, and reinforces the deeper and more emotionally impactful journey Master Chief will embark on."
Check out a look at the soundtrack composition process in the two videos below. Excited for another chance to step into Master Chief's shoes? Let us know in the comments.
Let us know your thoughts on our comments below or via our @Gadget_Helpline Twitter page or Official Facebook group.
Let us know your thoughts by adding a comment below or via our @Gadget_Helpline Twitter page or Facebook Page.
You can also stay up to date with our YouTube, Tumblr and Instagram pages.
---
Tags: Bungie, Christmas 2012, game, halo 4, Launch Date, microsoft, xbox 360