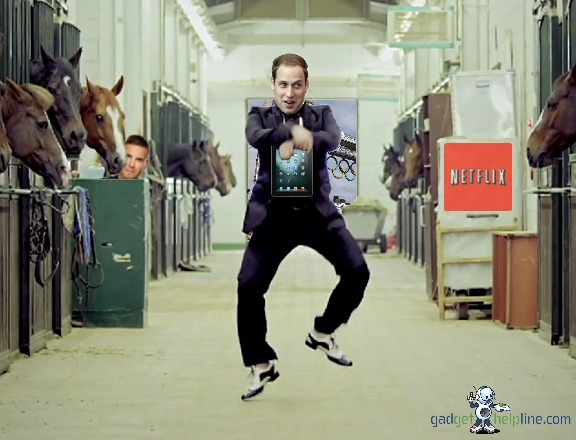 Google has revealed its yearly statistics for the UK, which show the year's biggest Google trending topics.
In a year that has seen the UK at the forefront of global media with the Royal Diamond Jubilee and a certain small sporting event, it would seem that us Brits have been as interested in our own country as the rest of the world has.
In the overall top trending searches you get the usual football (Euro 2012), Royals and Apple products in the mix, but this year has also seen a huge surge for streaming service Netflix, while NatWest has garnered what has to be a lot of unwanted attention due to its outage. Finally, there is the case of a Korean sensation called PSY.
Yes, unsurprisingly PSY and his Gangnam Style (the most watched video on the internet) song has burst into the top 10 and the rapper has left his mark in history.
Additionally, more specific lists reveal that the top trending TV show isCBEEBies TV show Mike the Knight, closely followed by Homeland and then TOWIE.
Skyfall, Prometheus and The Hunger Games top the most popular movies in the UK and apparently the top trending music artists are Lucy Spraggan (of X Factor fame), The Military Wives and the pop's latest torch carrying tweeting-mad pixie Will.i.am.
Top Trending Searches UK 2012
Euro 2012
Olympic tickets
Whitney Houston
Kate Middleton
April Jones
Netflix
Natwest online
ipad 3
Gary Barlow
Gangnam Style
Full Lists:
Trending People
Whitney Houston
Kate Middleton
Gary Barlow
Tulisa
Jessica Ennis
Fabrice Muamba
Michael Clarke Duncan
Morgan Freeman
Prince Harry
Usain Bolt
British Olympians most searched
Andy Murray
Tom Daley
Jessica Ennis
Mo Farah
Victoria Pendleton
Bradley Wiggins
Chris Hoy
Rebecca Adlington
Laura Trott
Louis Smith
Global Olympians most searched
Usain Bolt
Michael Phelps
Roger Federer
Yohan Blake
Ryan Lochte
Venus Williams
Rafael Nadal
Novak Djokovic
Tyson Gay
Missy Franklin
Trending TV Shows
Mike the Knight
Homeland
TOWIE
The Jonathan Ross Show
Celebrity Big Brother
Sherlock
The Great British Bake Off
Game of Thrones
Big Bang Theory
How I Met Your Mother
Trending Movies
Skyfall
Prometheus
The Hunger Games
Magic Mike
Taken 2
The Avengers
The Woman in Black
The Dictator
Sinister
The Devil Inside
Trending Fashion Labels
Stella McCartney
Karl Lagerfeld
Victoria's Secret
Alice Temperley
Versace
Mulberry
Marks and Spencer
Ossie Clark
Burberry
LK Bennett
Trending Music Artists
Lucy Spraggan
The Military Wives
Will.i.am
Emeli Sande
Psy
One Direction
The Spice Girls
Muse
Girls Aloud
Dizzee Rascal
Trending Politicians
Jeremy Hunt
Boris Johnson
Justine Greening
Alex Salmond
Michael Gove
George Osborne
Louise Mensch
Nadine Dorries
Keith Vaz
Ed Vaizey
Trending Songs
Gangnam Style
Call Me Maybe
Blow Me One Last Kiss
Beneath Your Beautiful
The Official Olympic Song (Survival by Muse)
Skyfall
Somebody That I Used To Know
We Are Young
Too Close
212
Trending Sports
Synchronized Swimming
Murderball
Wheelchair Basketball
Volleyball
Archery
100 metre sprint
Taekwondo
Gymnastics
Cycling
Athletics
Trending Travel Destinations
Rio de Janeiro
Greece
Brazil
Dubai
Paris
London
Bruges
Cornwall
Edinburgh
Barcelona
Most searched Cities in Google Maps (UK)
London
Bristol
Manchester
Edinburgh
Brighton
Surrey
Leeds
Oxford
Cambridge
Birmingham
Most searched Local Places in Google Maps (UK)
Hotel
Restaurant
Pubs
Camping
Tesco
Parking
Let us know your thoughts on our comments below or via our @Gadget_Helpline Twitter page or Official Facebook group.
Let us know your thoughts by adding a comment below or via our @Gadget_Helpline Twitter page or Facebook Page.
You can also stay up to date with our YouTube, Tumblr and Instagram pages.
---
Tags: Euro 2012, Gangnam Style, Gary Barlow, google, ipad 3, Kate Middleton, NatWest, netflix, Olympic tickets, Online, UK, Whitney Houston