Missed out on the Flappy Bird craze and a fan of Pro Wrestling? If the answer to both of these questions is "YES!" then we've found something that you're probably going to enjoy!
A wrestling fan who goes by the web alias BradleySGFX has adapted the addictive mobile game sensation, which was recently pulled from app stores by its creator, and replaced the Flappy Bird with an 8-bit sprite based on WWE favourite Daniel Bryan in a web-based version of the game called Flappy Bryan.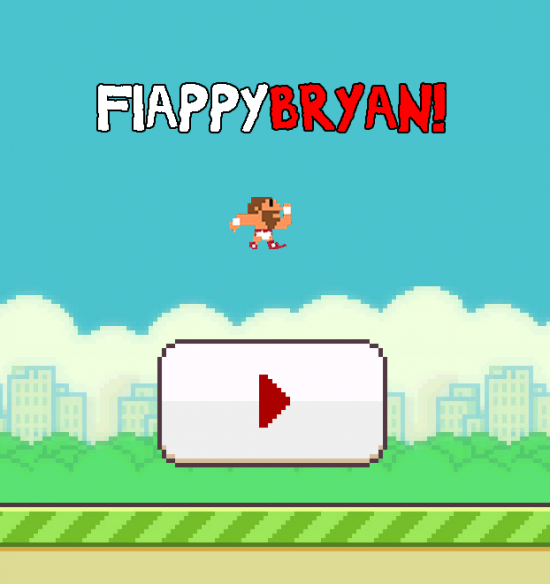 The same simple rules apply in Flappy Bryan as in Flappy Bird and so a tap (or click of the mouse button in this version) will send goat-bearded grappler Bryan in his trademark red trunks up into the air with the aim of the game to send him high enough to avoid the pipes that appear below and overhead – and which bear notable resemblance to those warp pipes seen in the Super Mario Bros. series.
The more pipes you clear the higher your score and the original Flappy Birds game could make quite a few idle hours fly by, not to mention cause great competition between mobile owning mates and this sent the game soaring as a top download on both the App Store and Google Play charts.
If you'd rather not fork out the ridiculously high eBay bidding prices for a gadget pre-loaded with Flappy Bird game we suggest you check out Flappy Bryan at www.bradleysgfx.us/flappybryan
Let us know your thoughts by adding a comment below or via our @Gadget_Helpline Twitter page or Facebook Page.
You can also stay up to date with our YouTube, Tumblr and Instagram pages.
---
Tags: #YESMovement, Android, App, Daniel Bryan, ebay, Flappy Bird, Flappy Bryan, game, iOS, wrestling, WWE