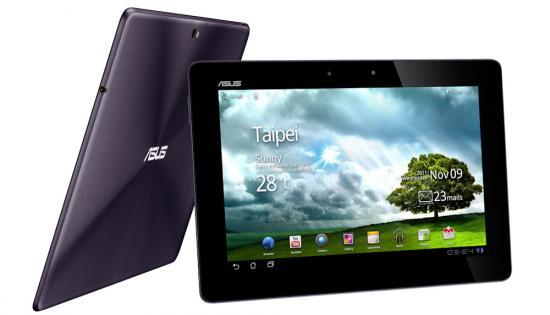 ASUS UK has taken to its official blog to address some FAQs regarding its new range of Transformer Prime Android tablets, and it's a mixture of good and bad news.
We'll start with the good news. Since launching in the U.S at the end of last year, ASUS' Transformer Prime super tablet has received some bad press due to issues with GPS and Wi-Fi dropping out occasionally. The issue was pinpointed to the design and materials used in the tablet; its all-metal design was in fact blocking some wireless signals from getting to and from the relevant components inside the device.
ASUS has confirmed via its blog that no products that have been shipped to the UK are affected by Wi-Fi issues, though it doesn't say the same for GPS problems. In fact, ASUS advises customers to return the item to the retailer for a full refund if there are unsatisfactory GPS issues. Customers can also claim an additional 8 months on their warranty through ASUS directly, taking the total up to 18 months.
From what we've found and heard from many, the Transformer Prime is extremely hard to come by in the UK as it is. Though the device launched officially last Thursday, many retailers like Currys, PC World and Dixons haven't even been told when to expect stock.
ASUS also confirmed the availability of its similar, yet improved Transformer Prime HD TF700T tablet. If you were holding back to get the improved model, it's bad news for you, though if you have already ordered the Transformer Prime TF201 and were kicking yourself when ASUS unveiled a better model straightaway, you're in luck. ASUS UK say that the TF700T won't be landing in the UK until June or July at least:
"In relation to the recently-announced TF700 model, this product is unlikely to be available in the UK before June at the earliest and no pricing details have been announced."
The Transformer Prime HD, model number TF700T, was announced last week at CES. It features the same size 10.1-inch Super IPS display, though the resolution has been cranked up to Full HD, a significant improvement over the regular model. The front facing camera has also been improved from 1.3-Megapixels to 2-Megapixels and we're told the Quad-Core Tegra 3 processor is clocked at 1.3GHz instead of 1.2GHz, though everything else spec-wise stays the same.
We feel that the main reason to churn out another similar product so close to releasing the original is the GPS issues. The TF700T doesn't feature the same incredibly beautiful swirled metal back as the TF201, instead it features a rather bland, flat plastic back. This will certainly improve Wi-Fi and GPS signal issues, though it looks nowhere near as nice.
I am unfortunately in the 'wait for the better model' boat, and have to say I'm pretty gutted at the long wait for the improved model. I may just have to try out the TF201 and see how I get on in the meantime!
Will you hold out for the HD model, or take your chances and grab a Transformer Prime now?
Let us know your thoughts on our comments below or via our @Gadget_Helpline Twitter page or Official Facebook group.
Source: ASUS UK Blog
Let us know your thoughts by adding a comment below or via our @Gadget_Helpline Twitter page or Facebook Page.
You can also stay up to date with our YouTube, Tumblr and Instagram pages.
---
Tags: Asus, GPS issues, HD, Quad Core, Signal, Tegra 3, TF201, TF700T, Transformer Prime, UK, warranty, Wi-Fi