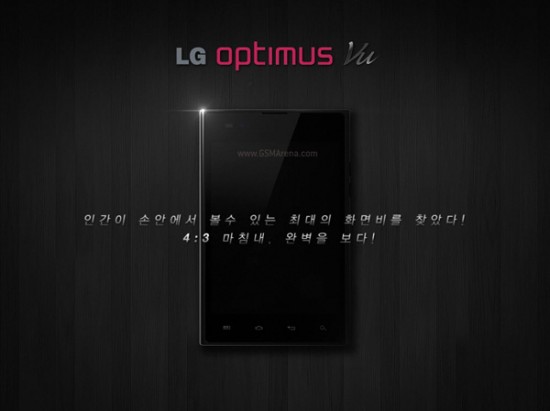 Look out, Samsung – LG have announced their competitor to the strangely successful 5.3″ Galaxy Note. It's called the LG Optimus Vu, and rather rarely for a current generation smartphone, it'll come with a 4:3 aspect ratio IPS display, reportedly 5-inches diagonally at 1024 x 768 pixels.
That'll give it more screen real estate compared to a 16:9 or 16:10 display of the same diagonal size, but of course will also make it less well-suited for video content. Indeed, 16:9 resolutions in particular are more common than they've ever been, pervading everything from Blu-Rays to computer monitors to apps, which makes the decision to go 4:3 all the more strange.
The rest of the specifications are likewise unconfirmed, as LG are yet to release anything beyond the single promo video. Still, for the sake of completeness, here they are. The Optimus Vu will reportedly be powered by a 1.5 GHz Dual-Core processor (putting around the mid to upper range of smartphone processors in 2012) backed with a full gigabyte of RAM and 8 gigabytes of internal memory.
On the rear, you'll find the now-standard 8-Megapixel camera, and I would assume (although I can't quite make it out in the video) there'll be a front-facing camera of 1.3 to 2 megapixels. Finally, you'll get that exciting-but-not-yet-useful NFC technology too.
Sounds pretty good, right? It's interesting at least, in the same way that the mammoth Samsung Galaxy Note is. But now for the bad news – it'll come with Gingerbread installed, instead of the latest Ice Cream Sandwich. Come on LG – we've remembered the months and months it took to update the Optimus 2X to Gingerbread from Froyo… and now you want us to wait for an even more essential Ice Cream Sandwich upgrade?
There's more bad news too – it hasn't yet been confirmed outside of the Korean market. While most LG releases there do make it to a worldwide release in some form, it's not a given. Hopefully, as worldwide availability will be included in the additional information that's released on this phone, likely on or just before the Mobile World Congress at the end of the month.
Let us know your thoughts on our comments below or via our @Gadget_Helpline Twitter page or Official Facebook group.
This article was written by William Judd, a freelance copywriter and tech journalist. William writes for MobileFun.co.uk, the UK's leading online retailer of Skylanders merchandise, including the Skylanders Triple Pack G and the Skylanders Triple Pack H.
Let us know your thoughts by adding a comment below or via our @Gadget_Helpline Twitter page or Facebook Page.
You can also stay up to date with our YouTube, Tumblr and Instagram pages.
---
Tags: 4:3, 5-inch, Galaxy Note, LG, Optimus Vu, Phablet, smartphone, Tablet